Tuesday, March 14, 2006
Flavored Waters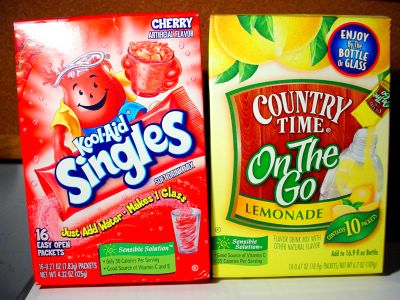 There has been on the market for quite awhile packets that you can add to your bottled water to flavor it, but they never used Splenda until now. Kool Aid and Country Time Lemonade have come out with these that use sugar, sucralose (Splenda), and the Kool-Aid also has fructose. The Kool-Aid comes in Grape and Tropical Punch Flavor as well. They are 30 to 35 calories per 8oz. serving. The lemonade is to be made with a 16.9 oz. bottle of water while the Kool-Aid an 8 oz. bottle.
My favorite of the flavored waters is Peach Propel. I also like the Wild Berry Aquafina water.
I know it's best to just drink plain old water but the new flavored waters greatly reduced my soda intake, so that's a good thing! Baby steps.