Wednesday, June 15, 2005
Peach Melba Tea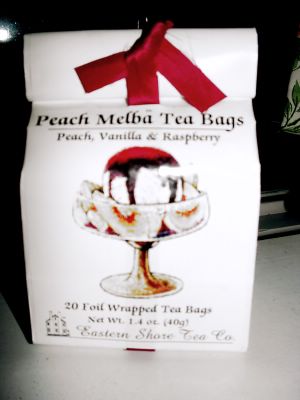 Ahh...a new favorite tea. This one is from
Eastern Shore Tea Company
in Lutherville Maryland 21093 Phone: 1-800-823-1408 or on the web at:
www.easternshoretea.com
They make all kinds of unusual flavors of teas in regular and decaf.
Eastern Shore Teas can be found at all Wegmans Stores, and all Dean & Deluca Stores or you can order them from
The Baltimore Coffee and Tea Company, Inc.
1-800-823-1408
http://www.baltcoffee.com/catalog/index.php/cPath/2_20
This company has all kinds of different teas and coffees so you may want to go back to their home page and look around more if you plan on placing an order. They carry Benchley Teas and their Strawberry Decaf was my very favorite for years. They stopped making it in bags but I'm able to purchase it locally, loose along with their others in little 1 oz. bags, and I mix the different fruit flavors together.